MSU CAVS Summit Drives Future of Autonomous Ground Vehicles
June 27, 2023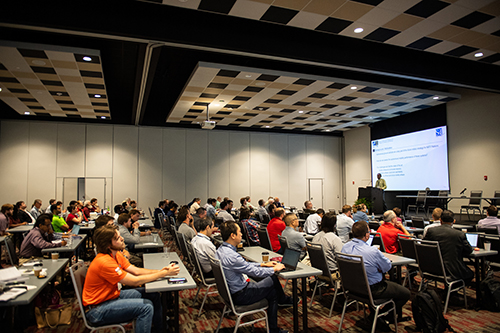 Paramsothy Jayakumar, the senior technical expert at the U.S. Army Combat Capabilities Development Command Ground Vehicle Systems Center, delivers a keynote address during MSU's Summit on Advancing Modeling and Simulation for Autonomous Ground Vehicles. Photo by Grace Cockrell
A summit held this week at Mississippi State University is making a pathway for the future of autonomous ground vehicles.
MSU hosted the Summit on Advancing Modeling and Simulation for Autonomous Ground Vehicles, bringing together experts from government, industry and academia to collaborate and learn more about the latest tools driving autonomous vehicle development.
"As computing capabilities advance, modeling and simulation are really driving the development of autonomous ground vehicles, especially for off-road and other challenging environments," said Daniel Carruth, associate director at MSU's Center for Advanced Vehicular Systems and the summit's lead organizer. "By bringing this community together, we can learn best practices and make connections that will ultimately benefit partners in defense and industry that have an interest in this technology."
The summit included several presentations from researchers within the U.S. Army on their work in the field and its significance to national security efforts. Bart Durst, director of the Geotechnical and Structures Laboratory at the U.S. Army Engineer Research and Development Center, said that autonomous ground vehicles represent a "tremendous force multiplier" that can keep soldiers out of the line of fire. However, it will take modeling and simulation to continue to advance the technology.
"Modeling and simulation optimize not just ground vehicles, but every system that we are developing," Durst said. "To do Multiphysics-based simulations and go through the virtual environment to test and evaluate allows us to look into problem sets we can't do in a physical test, and this allows us to really optimize those systems before we ever bend steel. That's critical. It optimizes the system; it saves millions of dollars, and it accelerates the time scale like no one can imagine. We can do this today with supercomputing and other capabilities that you here know well."
At MSU, cross-disciplinary teams of researchers are developing autonomous vehicle capabilities for off-road environments, with much of the work focused on modeling and simulation. With a 50-acre off-road proving ground, CAVS scientists are able to validate autonomous systems in real-world situations.
The MSU Autonomous Vehicle Simulator
, or MAVS, provides the ability to evaluate the performance of autonomous perception and navigation software in real-time, allowing for faster development of the systems that drive autonomous vehicles.
For more on MSU's Center for Advanced Vehicular Systems, visit
www.cavs.msstate.edu
.
Mississippi State University is taking care of what matters. Learn more at
www.msstate.edu
.
By James Carskadon