Strawderman, a CAVS Researcher, is First Recipient of International Paper Endowed Chair
February 26, 2018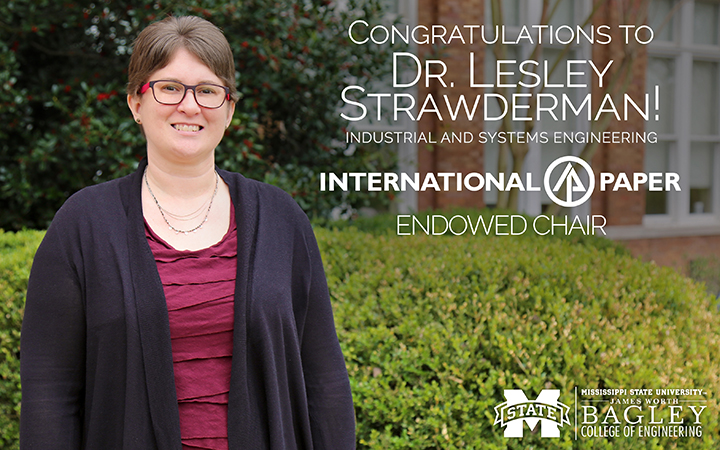 Lesley Strawderman, an associate professor and undergraduate coordinator of industrial and systems engineering within Mississippi State University's Bagley College of Engineering, has been named as the first recipient of the International Paper Endowed Chair in Engineering.
The endowed chair was created as the result of a $2.25 million gift from International Paper Co. The chair holder is selected from the departments of chemical, electrical and computer, industrial and systems and mechanical engineering. The holder also serves as a liaison to International Paper and assists with the identification of research opportunities and recruitment for the college.
"I am honored to be the first recipient of the International Paper Company Endowed Chair. Within our ISE department, IP has a rich history of recruiting and employing some of our best and brightest students. I am eager to use this position to enhance the teaching and research of our department, and to strengthen the relationship between MSU and IP."
Strawderman's research interests center around human factors and ergonomics. She is particularly interested in the impacts of vehicle autonomy on transportation safety. Her research has also included topics such as engineering education, technology acceptance, product design, human-robot interaction, and pedestrian behavior modeling.
Strawderman's publications have appeared in journals such as IEEE Transactions on Human-Machine Systems, Transportation Research Part C, Accident Analysis and Prevention, and Ergonomics. She is registered Professional Engineer in Mississippi and an active member of IISE and ASEE.
Strawderman joined the Mississippi State faculty in 2006.
MSU is Mississippi's leading university, available online at
www.msstate.edu
.
Philip Allison | Bagley College of Engineering