CAVS Uses Supercomputing for 'Halo Project' Driverless Supercar
January 31, 2018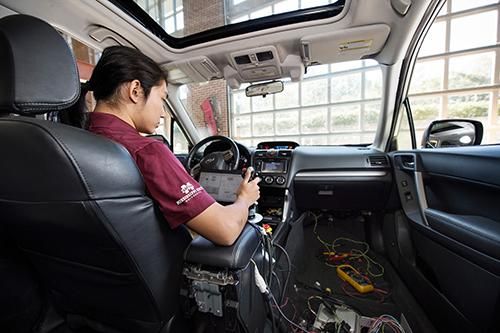 David Zhu, a senior mechanical engineering major from Clinton, is one of the Mississippi State University students working on the 'Halo Project' supercar, an all-electric and self-driving sport utility vehicle.
Photo by Megan Bean
Mississippi State is once again pushing the limits of automotive engineering through the development of a self-driving, all-electric sport utility vehicle.
Engineered by a team at MSU's Center for Advanced Vehicular Systems, the "Halo Project" supercar is designed to showcase MSU's expertise in automotive engineering and the latest automotive technology.
The supercar utilizes an on-board NVIDIA supercomputer that allows the vehicle to navigate on- and off-road terrain without human intervention.
The new vehicle and accompanying research have the potential to accelerate the societal benefits of autonomous vehicles through the creation of safer roadways and accessibility to independent automotive transportation for people with disabilities.
The project builds on a series of MSU automotive research projects, including the "Car of the Future," an all-electric hybrid that combines superior efficiency, sporty handling and advanced technological features. MSU student, faculty and staff research teams have long been recognized for excellence in projects like "Car of the Future," competitions such as EcoCAR, and other initiatives that have pushed innovation.
Industry insiders will understand the new project name, "Halo."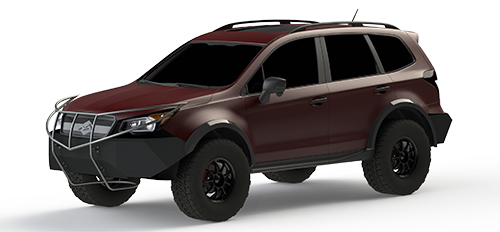 A rendering shows Mississippi State's 'Halo Project' supercar, an all-electric, autonomous sport utility vehicle.
Submitted photo
"When a car company produces a high-end vehicle that showcases all of its greatest technology, built to celebrate a brand's engineering prowess, that vehicle is called a halo car. This new project is MSU's halo car," said Matthew Doude, CAVS associate director and Halo Project lead. "The halo car highlights MSU's advanced engineering capabilities and demonstrates how research partnerships are helping us drive new technologies to the forefront."
CAVS Executive Director Clay Walden emphasized that the university is a global leader in automotive research.
"One of the things that excites me the most about the Halo Project is the key role played by our students," Walden said. "They are not just learning the theory underlying new technologies, but are actually experiencing the challenges of implementation and integration. This significantly enriches their engineering education and leverages what is learned in the classroom. These are great building blocks for us to continue to grow Mississippi's reputation as an automotive state."
Doude said the Halo Project demonstrates the strength and depth of MSU's research partnerships. The team comprises domestic and foreign companies that have successfully partnered with MSU on previous projects and serve a global customer base. With more than a decade of experience in advanced vehicle technology, Doude has unique insights into the power of industry partnerships and their role in driving automotive breakthroughs.
CAVS has partnered with multiple leaders in automotive technology to create a state-of-the-art SUV. Features of the car include:
navigation of a wide variety of terrain autonomously by using a sensor packing that includes LiDAR, radar and cameras. Four LiDAR sensors will create detailed 3D maps of the vehicle's surroundings, while stereo cameras will serve as the car's eyes and help it recognize and classify objects. Radar will allow the vehicle to see better through rain and snow, as well as identify types of terrain in front of the vehicle. All of the sensor data will be fed into an onboard supercomputer, provided by NVIDIA.


next-generation lithium ion battery produced by Michigan-based A123, an international leader in battery technology, enabling the vehicle to travel an estimated 230 miles on a single charge. The battery has more than 50 percent more energy capacity than the previous generation.


four electric motors powering each wheel individually and providing over 10,000 newton meters of torque. Built by YASA, the engines are coupled with high-power inverters made by Rinehart Motion Systems.


torque to the wheels through custom-designed transmissions provided by Hewland Engineering of Berkshire, United Kingdom.


custom body work and paint by Clinton Body Shop to ensure that the vehicle looks the part of a supercar. The shop also provided the paint for MSU's internationally-recognized "Car of the Future" vehicle.
Work on the Halo Project has been ongoing for approximately a year. Doude said the vehicle will be revealed and displayed at various conferences and automotive events once it is complete, which could be as early as this year. In addition to highlighting MSU's advanced engineering capabilities, the car will immerse undergraduate and graduate students in advanced automotive technology and research.
CAVS is an interdisciplinary center comprised of research, engineering design and development, as well as technology transfer teams for industry and government partners. For more, visit
www.cavs.msstate.edu
.
MSU is Mississippi's leading university, available online at
www.msstate.edu
.