CAVS Collaborates with MSU Library to Provide Students with Access to Virtual and Augmented Reality
November 13, 2017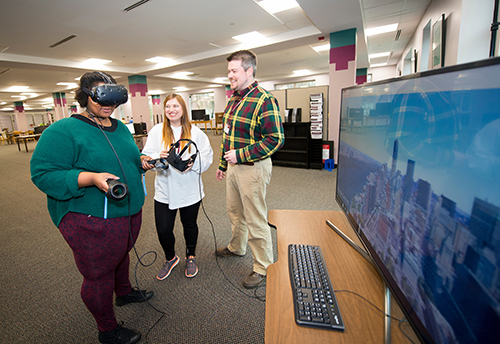 Ebony Preston, a junior elementary education major from Yazoo City, explores New York City using virtual reality equipment in MSU Libraries' new CAVS Mixed Reality Lab as Katelyn Cheatham, a graduate student in English from Philadelphia, and MSU Libraries Instructional Technology Specialist Thomas La Foe look on.
Photo by Russ Houston
Mississippi State University is one of the first universities in the country to provide all students with access to the latest virtual and augmented reality equipment, thanks to a partnership between MSU Libraries and the university's Center for Advanced Vehicular Systems.
CAVS recently funded the purchase of two HTC Vive and three Oculus Rift virtual reality headsets, along with two Microsoft HoloLens augmented reality headsets, creating the new CAVS Mixed Reality Lab in the library's Digital Media Center. The equipment can be checked out by any MSU student, faculty or staff member, with MSU Libraries personnel available to assist anyone interested in using the cutting-edge technology.
"CAVS is excited to help the library share virtual reality and augmented reality applications with our community," said Daniel Carruth, CAVS associate director for human factors. "CAVS is involved in a number of VR and AR research projects and Mississippi State is home to several faculty working with the technology. Having this equipment readily available increases the number of people who can explore the possibilities of these technologies, educate themselves in the basic development tools, and help develop the next great applications for these platforms."
The equipment at MSU Libraries contains software applications that students can explore. For example, a student studying abroad can use Google Earth applications to explore the streets of an area they plan to visit. Stephen Cunetto, MSU associate dean of libraries, said faculty members in many fields have shared ideas for ways to incorporate the technology into their classrooms, such as taking students on a "virtual" archaeological dig before they go on a real one.
"We're very excited about this opportunity," Cunetto said. "CAVS and Daniel Carruth have been excellent in partnering with us. They see the need for having this technology available to students and faculty. We can provide a space where people can use the equipment and a staff that assists people. With the library open 112 hours a week, it's exciting to provide open, free access to these resources."
Virtual reality, the complete visual and auditory immersion in a computer simulation, gives users the effect of being in another place. CAVS researchers use virtual reality to study the ways pedestrians interact with autonomous cars. Carruth uses virtual reality to provide training for new workers in manufacturing. Augmented reality combines real world and virtual elements. A common example of augmented reality is the virtual first down line used in football television broadcasts. Social media apps like Snapchat use augmented reality to place virtual objects onto the real world images a phone's camera captures. Both augmented and virtual reality technologies are expected to grow as technical advances continue.
"Providing general access to these technologies and the tools needed to create new applications expands the possibilities for professors, students, developers, artists and creators to explore ideas and build new experiences," Carruth said. "Students that work with these tools will develop skills that professors working in virtual and augmented reality are looking for, and that companies are looking for.
"Understanding is most easily accomplished through personal experience with the technology," Carruth added. "The CAVS Mixed Reality Lab will offer that opportunity to many people in our community, and we hope it will lead to many exciting ideas for applications for the technology."
Pattye Archer, coordinator of Mitchell Memorial Library's Digital Media Center, said she is excited for students to gain experience using the new hardware. The Digital Media Center has computers dedicated to the new equipment, as well as a projection display.
"In most places, this equipment is for researchers and graduate students," Archer said. "I think we're on the cutting edge in terms of offering this to undergraduate students as well. That is exciting and in keeping with our mission to provide our students access to what they need to be successful. The new Mixed Reality Lab compliments our other services including 3D printing, a multi-media lab with the latest software, equipment checkout, instruction and more."
For more on Mitchell Memorial Library's Digital Media Center, visit
http://lib.msstate.edu/dmc
. For more on CAVS, visit
www.cavs.msstate.edu
.
MSU is Mississippi's leading university, available online at
www.msstate.edu
.
Story by James Carskadon