International Researchers Come to MSU's CAVS to Discuss Future of Advanced Automotive Research
September 11, 2017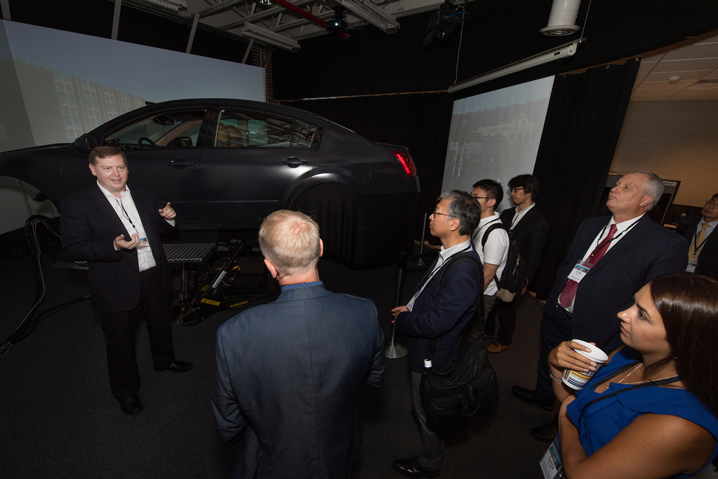 MSU Center for Advanced Vehicular Systems Associate Research Professor Daniel Carruth shows the center's driving simulator to researchers during the International Symposium on Advanced Vehicle Technology. The symposium brought together researchers from France, Germany, Japan and South Korea.
Photo by Beth Wynn
Researchers from several international universities are at Mississippi State University's Center for Advanced Vehicular Systems this week to discuss advanced automotive technologies and future research collaborations.
CAVS is hosting the second International Symposium on Advanced Vehicle Technology, which features presentations from researchers on topics such as autonomous vehicles, driving intelligence, virtual reality simulations and advanced auto manufacturing. The symposium also is designed to foster international research collaborations that will advance global automotive research and development.
"We're at a great time in terms of advancing technologies," CAVS Executive Director Clay Walden said. "There's a tremendous amount of interest in the work we're doing at CAVS. The researchers here today have very diverse backgrounds, which mirrors our organization. We're humbled to have such a distinguished group from around the world here with us."
CAVS associate research professors Daniel Carruth and Hongjoo Rhee both gave an overview of the research being conducted at the center, highlighting simulation and modeling capabilities at the center that are cost-effective and allow researchers to test cutting-edge technologies. Carruth showcased CAVS' driving simulation lab and virtual reality equipment that is being used to improve citizen, military and law enforcement safety.
"We generate realistic simulations as a way to model human behavior," Carruth said.
Rhee discussed CAVS' robust materials engineering research, which aims to understand the materials that build cars "from atoms to autos," in order to enhance the quality and efficiency of materials used in the manufacturing process. Rhee and other researchers can use modeling to test how materials such as steel will work over the course of its lifespan.
Bagley College of Engineering Dean Jason Keith said mobility and transportation has been a strong area of research for the college. MSU is a leader on federal unmanned aerial systems research and testing, has helped government partners enhance small underwater unmanned systems to check weather conditions in oceans and CAVS personnel are conducting a wide variety of research on autonomous vehicles.
"We're exploring lots of applications for unmanned mobility," Keith said. "Any time you have unmanned aerial vehicles or unmanned ground vehicles, those can be vulnerable from a security standpoint. Our Distributed Analytics and Security Institute is doing a lot of work to make sure those systems are secure."

CAVS, along with CAVS Extension in Canton, has generated over $6 billion in economic impact since it was created 15 years ago to support Mississippi's growing automotive industry. Kathy Gelston, MSU associate vice president for research and economic development, told conference attendees that MSU has worked to support automotive and other vehicular industries throughout the state.

"With Nissan and Toyota, MSU has continued to work with both companies to help them with any challenges they may have, whether it's part-related or performance-related," Gelston said. "We have a very large commitment to the automotive industry and other types of vehicular systems."

CAVS is an interdisciplinary center comprised of research, engineering design and development, as well as technology transfer teams for industry and government partners. For more, visit www.cavs.msstate.edu.

MSU is Mississippi's leading university, available online at www.msstate.edu.

Written by James Carskadon