CAVS Researcher receives Ralph E. Powe Junior Faculty Enhancement Award
August 8, 2017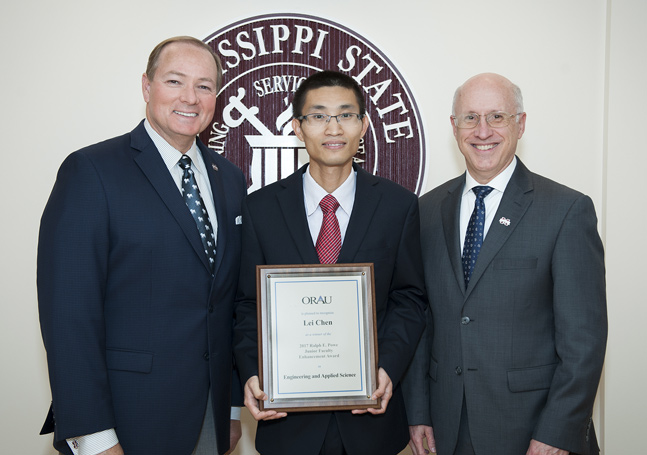 MSU Assistant Professor of Mechanical Engineering Lei Chen, pictured with MSU President Mark E. Keenum (left) and MSU Vice President for Research and Economic Development David Shaw (right), has received the Ralph E. Powe Junior Faculty Enhancement Award from Oak Ridge Associated Universities. Photo by Russ Houston
A Mississippi State University assistant professor of mechanical engineering is among 37 researchers selected to receive a prestigious junior faculty grant from Oak Ridge Associated Universities.
Lei Chen has received the Ralph E. Powe Junior Faculty Enhancement Award from ORAU for his research on metallic additive manufacturing.
The Powe Award provides $5,000 in seed money for research by junior faculty at ORAU member institutions. Chen also will receive a matching $5,000 contribution from MSU.
"The Powe awards recognize the research and professional growth of young faculty and help them to identify new funding opportunities," said Arlene Garrison, ORAU vice president. "ORAU is proud to support the future of science through these emerging academic leaders."
"Dr. Chen joined our department in 2015 and has already won two highly competitive NSF external funding awards to support his research," said MSU Mechanical Engineering Department Head Pedro Mago. "The ORAU Ralph E. Powe Award is another recognition of his talent and the cutting-edge research he is planning to do in his lab."
Additive manufacturing offers the ability to fabricate customized, complex metallic parts traditionally unobtainable for a variety of applications, such as on-site, rapid fabrication of metallic bone implants with patients, and replacement parts in remote aerospace locations such as outer space.
Chen and his collaborators are developing a computational model to optimize printing strategies to tailor the microstructure and micromechanical properties of metallic materials during the additive manufacturing process. The end result will advance fundamental understanding of the underlying formation mechanism of various grain morphologies and textures.
"The success of this project will open a completely new direction in the computationally driven manufacturing design to tailor the microstructure and micromechanical performance of additive manufacturing parts," Chen said.
Chen will collaborate with Ke An and Hong Wang from the Oak Ridge National Laboratory on the research. An is the lead scientist of the versatile materials science and engineering diffractometer, the VULCAN beamline, at the world's most intense pulsed neutron source, Spallation Neutron Source. Wang is a research scientist at the Materials Science and Technology Division, and has been working on mechanical testing and characterization of various structural and functional materials. Other collaborators include Haley Doude from MSU's Center for Advanced Vehicle Systems and Chunlei Qiu from Cardiff University.
"This award will help Chen generate preliminary data to develop multidisciplinary competitive research proposals to be submitted to external federal, state and other agencies," Mago said. "The award will also significantly enhance the collaborations between MSU and the Oak Ridge National Laboratory."
Prior to working at MSU, Chen was a postdoctoral research associate in the Department of Materials Science and Engineering at Pennsylvania State University and a research fellow at Southampton University in the United Kingdom. Chen obtained his doctorate in mechanical engineering from the National University of Singapore in 2012.
ORAU is a 121-member consortium of Ph.D.-granting academic institutions that brings together university faculty and students to collaborate on major scientific initiatives that help keep America on the leading edge of science and technology. For more, visit
www.orau.org
.
More information on MSU's Bagley College of Engineering can be found at
www.bagley.msstate.edu
.
MSU is Mississippi's leading university, available online at
www.msstate.edu
.