University's CAVS Partners with Entergy to Improve Electrical Grid, Boost Reliability
June 19, 2017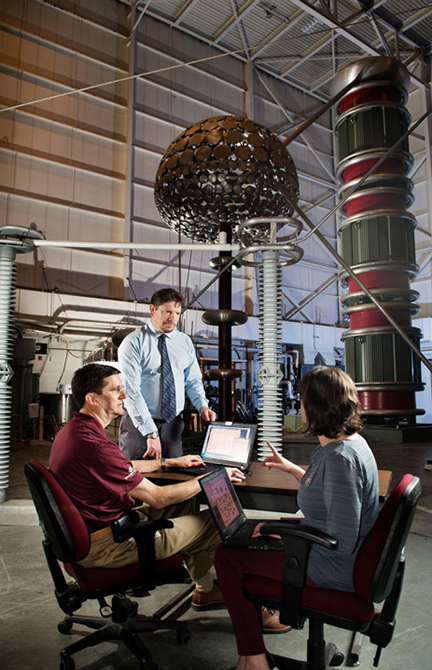 Mississippi State University Center for Advanced Vehicular Systems researchers Greg Henley, Mike Mazzola and Angela Card collaborate in MSU's Paul B. Jacob High Voltage Laboratory. The engineers are working in collaboration with Entergy to develop software that will improve the reliability of U.S. electrical systems.
PHOTO by Megan Bean, Public Affairs
Through its partnership with Entergy's planning department, MSU's Center for Advanced Vehicular Systems team is working to develop a load-serving capability tool and a relay settings automation tool, among other projects.
"Entergy is our longtime partner in building practical new software tools to improve performance and reduce the cost of engineering a more reliable power grid," said CAVS Associate Director
Mike Mazzola
. "Because our research with Entergy has immediate application, we feel that consumers may realize improvements from the work, often without them even knowing it, much faster than most university research."
Currently, a load-serving capability software is being tested to enhance the ability to determine the power load capacity of specific assets on the electric grid. The research relationship has also resulted in the development of a relay settings automation tool that will give engineers the ability to more quickly test a wide range of scenarios, leading to more reliable service for customers.
"Leveraging local resources like the research team and facilities at Mississippi State University is an efficient, effective way Entergy innovates for the future," said
Jim Schott
, Entergy's vice president, transmission. "At the same time, we're providing hands-on experience to the next generation of engineers, contributing to workforce development for Mississippi. It's a powerful partnership."
Additional corrective action software developed through the partnership allows planning engineers to consider severe weather and variations in power loads, identifying potential problems before they occur.
For more on MSU's Center for Advanced Vehicular Systems, visit
www.cavs.msstate.edu
.
Entergy delivers electricity to 2.9 million utility customers in Arkansas, Louisiana, Mississippi and Texas. For more, see
www.entergy.com
.
MSU is Mississippi's leading research university, available online at
www.msstate.edu
.
James Carskadon | Public Affairs