MSU Cross Collaborative Research Teams, Toyota Mississippi and Liquid Wire Inc. Partner on Effort to Improve Industrial Safety Through Wearable Technology
May 18, 2023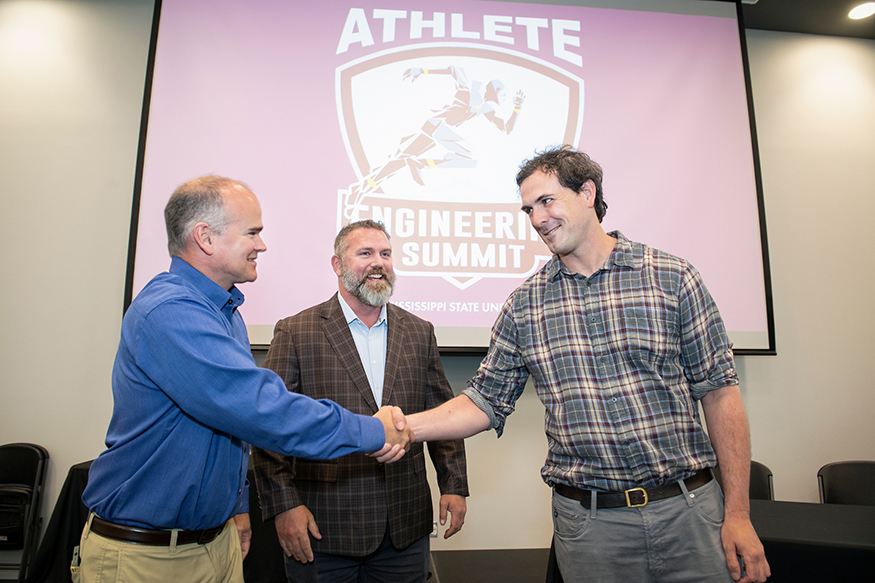 Toyota Mississippi Vice President of Administration Erik Skaggs, Liquid Wire Inc. CEO Mark Ronay and MSU Associate Professor of Industrial and Systems Engineering Reuben Burch celebrate a new partnership between the three entities to use wearable technology in Toyota's Blue Springs plant as part of an effort to improve workplace safety and aid in the prevention of injuries. Photo by Megan Bean
Mississippi State University, Toyota Mississippi and Liquid Wire Inc. are partnering on applied research for the use of smart wearable technology to improve workplace safety and aid in the prevention of injuries.
The collaboration was announced at the MSU Athlete Engineering Summit, a conference focused on improving human performance for sports, industrial, tactical and at-risk athletes. As part of the project, MSU's interdisciplinary Athlete Engineering research group will work directly with the Northeast Mississippi auto-manufacturer to implement and assess Liquid Wire wearable technologies inside its facility, providing new insights into ways Toyota can improve job performance and identify potential injury risks.
Reuben Burch, MSU associate professor of Industrial and Systems Engineering and head of the Athlete Engineering research team, said that while wearable technologies have been widely used in collegiate and professional sports settings, their use in industry has been limited. However, there are several potential benefits for companies and employees on the front lines of manufacturing.
"Wearables and other technologies that monitor human performance have tremendous potential to identify injury risks before they become a larger issue," Burch said. "Industrial athletes have unique, sometimes repetitive movements and this project will help us better understand how the body responds to those tasks. Collaboration is at the core of our Athlete Engineering research, and I am grateful for partners like Toyota and Liquid Wire that are helping us further the societal benefits of these technologies."
Located in Blue Springs, Toyota Mississippi produces the world's best-selling vehicle—the Toyota Corolla. With more than 2,400 employees and over 2 million vehicles produced to date, the journey towards a safer road never ends.
"This collaboration is one of the many ways Toyota works to innovate and advance the culture of safety for the manufacturing process," said Erik Skaggs, Toyota Mississippi vice president of administration. "Leveraging wearable technology to gain data-based insight can help mitigate day-to-day risks while allowing us to predict injury before it occurs. That coupled with Toyota's core value for continuous improvement will provide safer practices for our employees."
MSU has partnered previously with Portland, Oregon-based Liquid Wire Inc. on research that uses the company's wearable soft robotic sensors, which allow for the collection of sophisticated movement data in a more natural or realistic setting than traditional motion capture systems. As part of the project, MSU will conduct validation studies on Liquid Wire's wearable sleeve and generate training materials for proper use of the technology in an advanced manufacturing setting like Toyota Mississippi's plant. Mark Ronay, CEO of Liquid Wire Inc., said that preventative ergonomic monitoring is the next frontier in industrial Personal Protective Equipment (PPE).
"We are excited to partner with Toyota and MSU on applying our wearable musculoskeletal monitoring platform to a manufacturing setting," Ronay said. "Our technology's ability to directly incorporate comfortable and form-fitting sensing circuitry into industrial PPE allows seamless real-time feedback on ergonomics, efficiency and health of a movement, allowing preventative protection against injury. We look forward to collaborating with MSU and Toyota to characterize application-specific motions specific to their manufacturing environment and develop metrics and custom dashboards for preventing repetitive stress injuries at the workplace."
The initial project will last approximately one year. In addition to Burch, MSU principal investigators include Lesley Strawderman, International Paper Chair and professor in the Department of Industrial and Systems Engineering, Harish Chander and Zack Gillen, associate professors in MSU's Department of Kinesiology and David Saucier, research engineer at MSU's Center for Advanced Vehicular Systems.
MSU Athlete Engineering is a multidisciplinary research group that works to improve human performance in military, rehabilitation, industry and sports settings. With a robust student pipeline, the research group is helping to meet the growing demand for individuals that can collect, analyze, and effectively communicate the meaning of data generated by wearable technologies. For more, see
https://www.cavs.msstate.edu/research/athlete_engineering.php
.
About Mississippi State University
Mississippi State University, a premier research institution proving a world-class education, is focused on taking care of what matters. Our committed faculty members, including some of the most renowned researchers in their fields, are preparing students for meaningful careers while also readying them to significantly improve our state, region and world.
From groundbreaking, hands-on research initiatives to our life-changing service initiatives, we are providing students the experience needed to become tomorrow's leaders. Our students are part of a connected community that values learning, service, access, and intellectual and creative freedom. See more at
www.msstate.edu
.
About Toyota
Toyota (NYSE:TM), creator of the Prius hybrid and the Mirai fuel cell vehicle, is committed to building vehicles for the way people live through our Toyota and Lexus brands, and directly employs more than 48,000 people in North America (more than 39,000 in the U.S.).
Over the past 65 years, Toyota has assembled nearly 45 million cars and trucks in North America at the company's 13 manufacturing plants. By 2025, the company's 14th plant in North Carolina will begin to manufacture automotive batteries for electrified vehicles.
Through our more than 1,800 North American dealerships (nearly 1,500 in the U.S.), Toyota sold more than 2.4 million cars and trucks (more than 2.1 million in the U.S.) in 2022, of which, nearly one quarter were electrified vehicles (full battery, hybrid, plug-in hybrid and fuel cell).
Toyota Mississippi Media Contact: Tiffannie Hedin,
tiffannie.hedin@toyota.com
.
About Liquid Wire Inc.
Liquid Wire's stretchable metal gel circuitry emulates the mechanics of the body's own musculoskeletal system to act as a second skin wirelessly streaming data from muscles and joints. With washable circuits and sensors so thin and stretchable they're virtually unnoticeable, continuous full-body physiological monitoring is now possible for athletic and orthopedic apparel, smart PPE, Extended Reality (XR) peripherals, and many other applications. Real-time software tracking of 3D body movement can provide valuable insight for performance improvement, injury prevention and detection, and biomechanical research.
Liquid Wire Inc. Media Contact: Bill Hanrahan,
bill.hanrahan@liquidwire.com
.
By
James Carskadon