ISER's Coding and Robotics Camps Prepare Students for the Workforce
August 26, 2019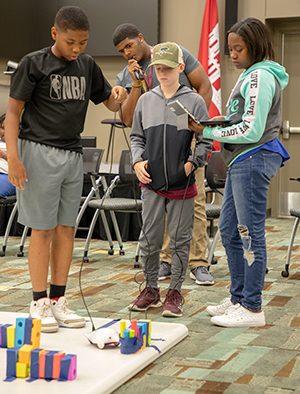 Computer programming is predicted to be among the top careers in the decades to come, propelling educators to introduce computer skills as early as possible in the classroom setting. Many schools have incorporated coding and robotics into their curricula, granting opportunities for students to regularly engage the STEM (Science, Technology, Engineering and Math) fields. The Institute for Systems Engineering Research (ISER), which mostly employs research analysts and engineers in the STEM fields, has been collaborating with the Vicksburg Warren School District and the Smith County School District for the last three years to provide coding and robotics camps during the summer months.
The Vicksburg Coding and Robotics (VCR) camps are led by Corey Mize and Kevin Walker, computer scientists with the Engineer Research and Development Center (ERDC) in Vicksburg, Mississippi. Since its inaugural year in 2017, the ISER has partnered with ERDC to provide support for the VCR camps. During the summer of 2019, Mize, Walker, and a team of ISER interns working at ERDC's Information Technology Lab (ITL), hosted the third annual VCR camp in one of ITL's classrooms.
"Our goal was to cultivate interest in computer science throughout the Vicksburg community by reaching students who are not traditionally exposed to these principles," Mize stated. "This exposure to the computer science field gets students excited about coding and it motivates them to use what they have learned from the camps in the classroom environment. They are given opportunities to consider career paths they may not have thought about before." To date, 70 students have attended the VCR camps in Vicksburg.
This year's camp was split into two, two and a half day sessions which were held July 22-26. Eleven middle school students attended the first session, and 11 high school students attended the second session. The students were introduced to augmented and virtual reality (AR/VR), cybersecurity, and autonomous robotics through ITL personnel presentations, in addition to computer programming and robotics concepts, before working in groups to build and program robots.
Michael Hamilton, associate director for ISER's Data Analytics and Visualization Research, led a team to facilitate three Bulldog Bytes Coding and Robotics camps in June and July 2019. As the VCR camps are intended for older middle and high school students, the Bulldog Bytes camps are designed for second through eighth-grade students.
On June 6-7 and June 25-26, and for the first time in Vicksburg, 60 students attended two Bulldog Bytes Coding and Robotics camps at Beechwood Elementary School. For the second year, this series of Bulldog Bytes camps was also offered at Raleigh High School in Raleigh, July 15-19. Fifty-eight students attended the camp in Raleigh this year.
The curriculum for the Bulldog Bytes camps was constructed from the
Code.org
paradigm, where interactive computer tutorials are used to teach coding and robotics to younger students.
"School aged children of today will occupy the workforce of tomorrow," Hamilton said. "As most computer programming jobs require the fundaments of coding, introducing these concepts to younger students will increase their knowledge of STEM fields and make them more likely to excel on those career paths."
Since July 2018, 170 students have attended the Bulldog Bytes Coding and Robotics camps in Vicksburg and Raleigh.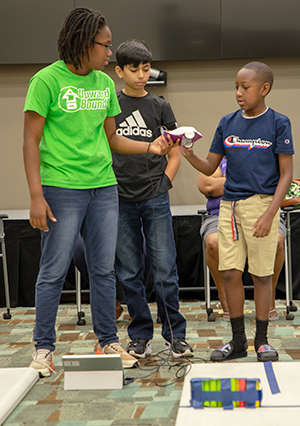 In addition to being more prepared for an evolving workforce, studies show that students who are exposed to coding and robotics also build stronger teamwork, problem-solving and critical thinking skills.
"Coding is part of our digital age that we live within. Being able to code empowers children to take control of their digital world, developing skills in sequencing, counting, problem-solving, cause and effect and critical thinking," explained David Adams, principal of Beechwood Elementary School.
Hamilton and Mize emphasized the importance of facilitating fun learning experiences for the students.
Jose' Eslinger, a fourth-grader who attended one of the Bulldog Bytes camps, stated, "The coding camp was really fun. My friend and I would work on some of the coding levels together. Whenever we would get stuck on a level, we would work it out together."
The ISER aspires for the coding and robotics camps to make STEM learning experiences fun and memorable for years to come.
For more information about the Institute for Systems Engineering Research, please visit
www.iser.msstate.edu
.
By Danielle Hamilton