CAVS Represented at MSU's ORED Awards
June 12, 2019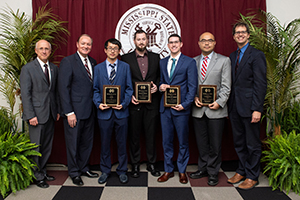 Six members of MSU's Center for Advanced Vehicular Systems ensured that the organization was well-represented during the Office of Research and Economic Development's university-wide awards ceremony.
Hosted by the Vice President for Research and Economic Development and the Vice President for Agriculture, Forestry and Veterinary Medicine, the annual ORED awards banquet celebrates those making significant research contributions to Mississippi's premier research university.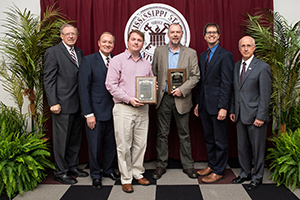 Multiple CAVS researchers received recognition, including:
Linkan Bian, ORED/BCOE Faculty Research Award
Michael Gibson, ORED/BCOE Research Support Staff Award
Yucheng Liu, 2018-2019 William L. Giles Faculty Leadership Program
Raj Prabhu, patent recognition for "Shock-Wave Mitigating Helmets" (Patent No. 9,820,522 – Issued 11/21/2017)
Wilburn Whittington and Andrew Oppedal, patent recognition for "Serpentine Load Monitoring Apparatus" (Patent No. 9,863,859 – Issued 1/9/2018).
Designed to honor individuals who contribute significantly to the university's mission of research, ORED's research awards program recognizes and rewards students, faculty, and support staff for their accomplishments in research and creative endeavors and increases awareness of Mississippi State research programs and capabilities.
For a comprehensive list of ORED award winners,
click here
.
MSU's Center for Advanced Vehicular Systems in online at
http://www.cavs.msstate.edu.
Contact:
Amanda Meeler