MSU EcoCAR Team Awarded 'Spirit of the Challenge'
June 12, 2019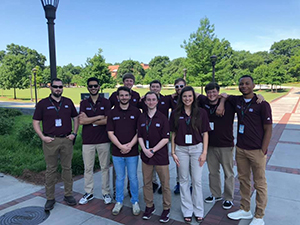 MSU 2019 EcoCar Mobility Team.
Photo by Amanda Meeler
A team of Mississippi State students added a new piece of hardware to their trophy case after attending the EcoCAR Mobility Challenge's year one competition.
The four-year competition tasks each team with reengineering a 2019 Chevrolet Blazer, with objectives focused on electrification, advanced propulsion systems and SAE Level 2 automation.
During the week-long competition, the twelve university teams gathered in Atlanta, Georgia, to cap off the first year of the EcoCAR Mobility Challenge with technical and project management presentations, networking, and poster sessions.
MSU's team returned to Starkville with the Ron Stence Spirit of the Challenge Award.
Continually selected as one of the elite North American universities to compete in the EcoCAR competition, MSU teams placed first overall in 2007, 2008, 2010 and 2012, and maintain high ranks within presentation and event categories.
According to long-time headlining sponsor the U.S. Department of Energy, "EcoCAR puts the students in the driver's seat, providing a real-world training ground for students to gain hands-on experience following a multi-year vehicle development process to design, integrate and refine efficient mobility solutions." Additional sponsors include General Motors and MathWorks, among others.
For more information on the EcoCar Mobility Challenge, visit
avtcseries.org/ecocar-mobility-challenge/.
MSU's Center for Advanced Vehicular Systems in online at
www.cavs.msstate.edu.
Contact:
Amanda Meeler